If you are tired of your phone running out of battery, then you've come to the right place. Pebble brings to you an extremely light and sleek Portable Charger of 4400mAh capacity that will charge your phones in one go. With its Inbuilt attached cable, there is no hassle of extra cables or wires, and you can charge 2 DEVICES AT THE SAME TIME! Just keep this little wonder in your pocket, and you can charge your phone anywhere anytime without having to look for a power socket. It can charge ALL phones and virtually any tablet, digital camera, mp3 player, play-stations and other USB devices. Designed with a Quick Charge Technology that charges your device much faster than a normal charger. So get yourself a Pebble Pocket Charger today, and stay connected forever.
When all hope seems bleak with a dying phone in your hand at a time when you need to tell your loved one that you're safe after travelling to a previously unvisited destination, this saviour of a power bank will provide the power you need to put you and your loved one's mind to peace.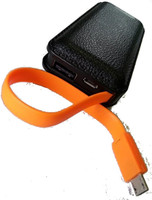 Compatibility
This power bank can be used to charge portable devices like smartphones, tablets, digital cameras or MP3 players. You can charge two devices at the same time.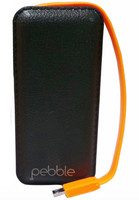 In-built Cable
You won't have to struggle and find a cable to connect your smartphone to this power bank in a time of need as this device comes with an in-built cable.
Quick Charge Technology
Pebble's unique Quick Charge Technology ensures that your portable devices are charged faster than standard chargers.
Power
The lithium-ion battery of this power bank has a capacity of 4400 mAh and it generates 5 volts of power.
Portability
Effortlessly carry this power bank around by slipping it into your pocket.
General
Sales Package

1 Power Bank, 1 USB Cable

Suitable Device

Charging Cable Included

Output Power